Last updated: Sunday December 22, 2019 12:25PM
Date of Event North Shore Junior Cricket Association: Sun Dec 1, 2019 4:00PM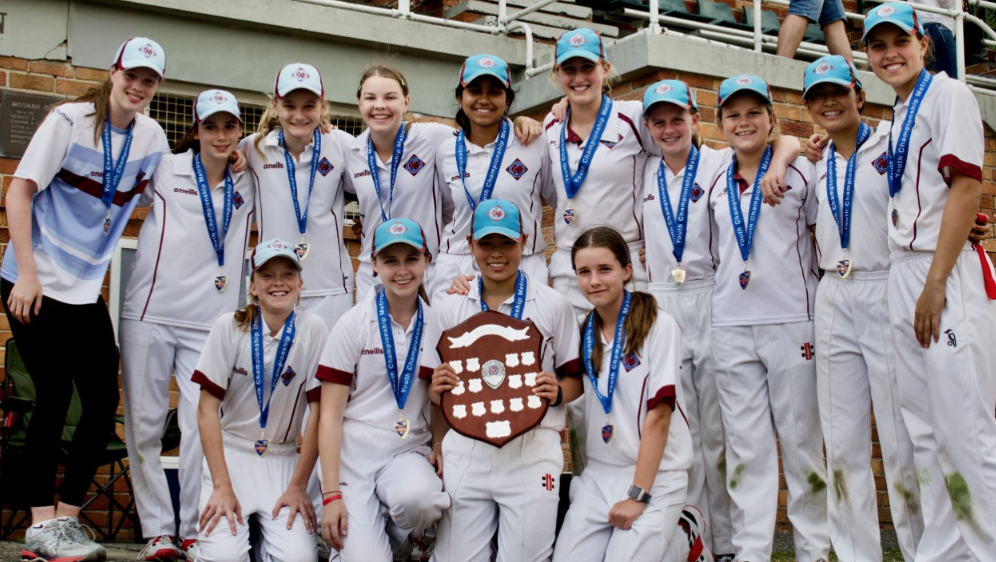 NSJCA U15 Margaret Peden Shield Champions for 2019
Back Row from left to right: Amelia Sim, Amelie Pope, Zoe Clubb, Eleanor Smith, Kinjal Kumari, Lucy Warren, Lucy Yates, Lily Dorahy, Sara Chun, Olivia Maxwell
Front Row from left to right: Leilani Veitch, Emma Ridley, Lauren Kua, Charlie Hill
Congratulations to our NSJCA U15 female side, who defeated Canterbury & Western Suburbs by 58 runs in their Grand Final on Sunday at Allan Border Oval to win the Margaret Peden Shield for 2019.
Congratulations to coaches Neil Maxwell and Alison Willard, to manager Leonie Ridley, along with all the players.
North Shore Captain Lauren Kua won the toss and elected to bat on a what looked to be a very good pitch.
The team set about building a defendable total. When Kinjal Kumari (16) fell, Sara Chun was joined at the wicket by her captain and the pair both warmed to the task of accumulating runs with a magnificent partnership that was only broken as the final over approached. At the completion of 50 overs an amazing performance by Sara Chun (120) & Lauren Kua (107*) had seen both players record their maiden centuries in an impressive second wicket stand of 248 runs.
North Shore had posted a formidable target of 2 for 305 off their allotted 50 overs.
With runs on the board a valuable asset, North Shore took an early wicket to improve their position but Canterbury & Western Suburbs proceeded to build a second wicket partnership of their own. The partnership had grown to 124 before Leilani Veitch (1/32) removed the dangerous Samira Dimeglio (71) to break the stand. For Canterbury and Western Frankie H Nicklin (101) was the mainstay but a run out and great catches from Charlie Hill and Olivia Maxwell saw wickets fall at important moments in the match. NSJCA produced a very good all round team bowling performances with Olivia Maxwell (2/24) and Sara Chun (2/32) taking the wickets that disrupted the run chase. This combined with solid display in the field restricted the scoring and ultimately closed out the match.
This well deserved Championship win was an appropriate culmination of a great season for the team.
Congratulations go to all our NSW Youth Championship teams who represented the North Shore in this competition with many team and individual achievements and victories.