Date of Event North Shore Junior Cricket Association: Mon Dec 9, 2019 11:54PM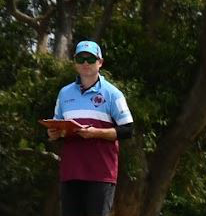 After over five years involved in the NSJCA Representative program, Julian Magarey is hanging up his clip board and 'retiring' from the NSJCA Rep Sub-committee. Though we may catch a glimpse of him at the upcoming trials in February which will mark the completion of activities for the 2019/20 season.
It takes a lot of ensure Reps runs smoothly each season. With 14 teams and more than 180 players there are many moving parts to coordinate. And over the past five seasons Julian has been an integral part of that process providing his own brand of personal heroics and the behind the scenes efforts that make the plans a reality.
Be it arranging replacement players, organising training facilities, confirming match day grounds, ensuring there are back up grounds for turf matches, scheduling selectors for trials, collating & summarising trial feedback, being across the President Cup playing conditions and rule changes, as well as coaching Rep teams which he did on a number of occasions, Julian has done it all over the years.
With Julian's departure the Rep Sub-committee has some very big shoes to fill next season !
Thank you Julian for all those years of dedication and service to the NSJCA.