Last updated: Sunday December 22, 2019 6:04PM
Date of Event North Shore Junior Cricket Association: Sun Dec 1, 2019 3:00PM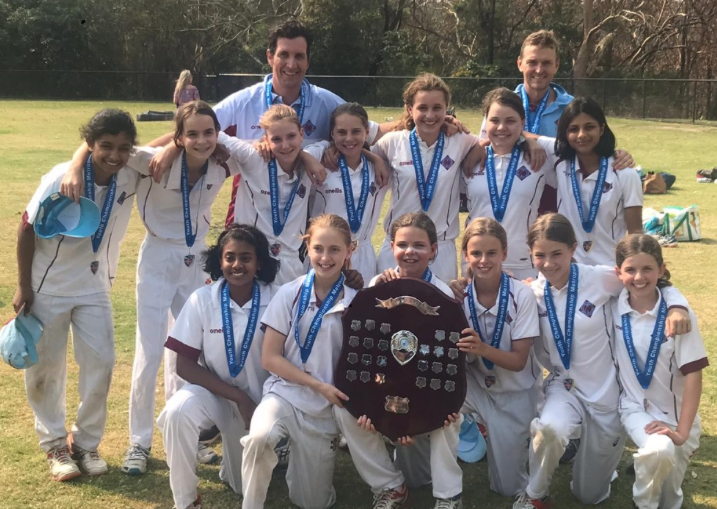 NSJCA U13 Mollie Dive Shield Champions for 2019 with coach Stephen Callaghan (left) and manager Sean Toms (right)
Back Row from left to right: Aanshi Sri, Louisa O'Grady, Olivia Linfoot, Abigail Giles, Oliva Callaghan, Elizabeth Cambridge, Taara Kotibhaskar
Front Row from left to right: Sam Kuncham, Maddie Caspers, Mabel Oxenham, Holly Toms, Anita Zordan, Elizabeth Yates
Congratulations to our NSJCA U13 female side, who defeated Manly Warringah by 65 runs in their Grand Final on Sunday at Howson Oval to win the U13 Mollie Dive Shield for 2019.
Congratulations to coach Stephen Callaghan and manager Sean Toms, along with all the players.
North Shore Captain Olivia Callaghan won the toss and elected to bat.
After a solid start the team lost wickets at regular intervals and were only 72 when the 6th wicket fell in the 22nd over. Consolidation was needed, and was supplied by patient and mature batting from Abigail Giles (17 of 43) and the captain herself who had been there from the first ball. Together Olivia & Abigail got the innings back on track and ensured North Shore batted out the overs with a view to setting a defendable total. They managed the innings almost all the way to the end of the available overs, putting on a remarkable 93 for the 7th wicket partnership, before Abigail was removed late on.
When Olivia Linfoot was run out off the last ball of the innings, North Shore had posted a very competitive target of 4 for 187 from their allotted 40 overs with Olivia Callaghan (93 off 135 not out) in the middle for every delivery.
With the ball North Shore bowled economically to squeeze the run rate and were rewarded with an early break through to have Manly 1/14. To their credit the Manly top order dug in and put on a 42 run partnership but a brilliant piece of work saw wicket keeper Taara Kotibhaskar throw down the stumps at the non-strikers end effecting a run out and breaking the all important second wicket partnership. Once that partnership was broken mounting scoreboard pressure combined with a magnificent all round fielding display from our team lead to regular wickets in the middle of the innings.
All of the bowlers kept a tight reign over the runs with opening bowler Aanshi Sri setting the standard up front with 1/3 off 3 overs, before Madeleine Caspers (2/12), Elizabeth Cambridge (3/9) and Olivia Linfoot (2/5) all got amongst the wickets to maintain control over the game. The innings never progressed to a position where Manly Warringah had the run rate required under control and could challenge the game.
This was a remarkable achievement by a team that bonded and supported each other – and played better and better cricket as the season progressed. Their development resulted in a fine display of hard, skilful cricket, from a team full of character to finish off a successful season with a premiership win.
Congratulations go to all our NSW Youth Championship teams who represented the North Shore in this competition with many team and individual achievements and victories.