Last updated: Sunday December 9, 2018 10:04AM
Date of Event North Shore Junior Cricket Association: Sun Dec 9, 2018 5:00PM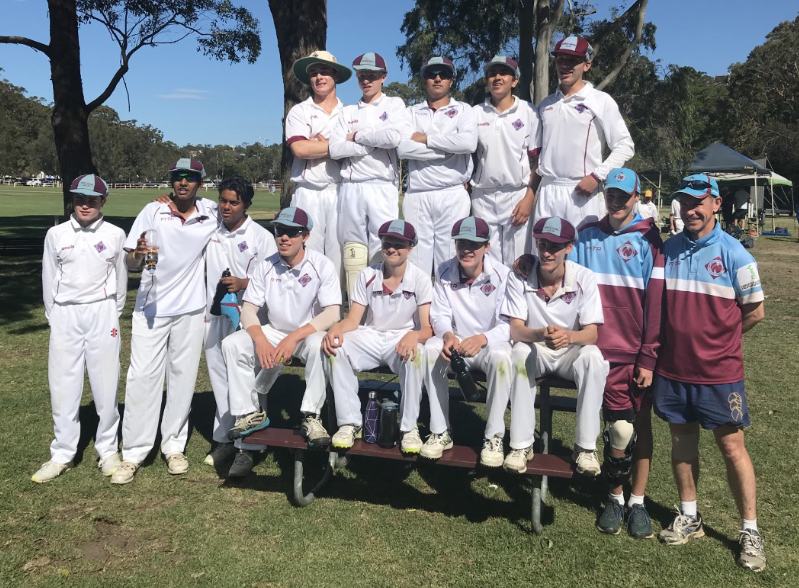 NSJCA Graduating Class from 2018/19 season
Back row from left to right: Tom Osborn, Mitchell Crayn, Nikhil Ahluwalia, Adam Sidhu, Harrison Lucas
Front row from left to right: Tom Chapman, Ayush Joshi, Jay Naganayagam, Adam Cavenor, Zac Hall, Lachlan Phillips, Aiden Thomas, Callum Bladen, Andrew Ridley (coach)
The NSJCA would like to congratulate and thank the Representative Class of 2018/19, who finished their junior representative involvement with the U16 CS Watson Shield campaign in 2018.
We appreciate your contributions to the NSJCA Representative Program, which started in 2012 when this group began their representative journey in the U10 WG Fosters Shield and has now culminated with them having played their last match for NSJCA.
The strength of this group is shown out in the number of players that have played together since those U10 WG Foster Shield days. That is seven seasons of rep cricket which is fantastic but made even more remarkable when you realise that 4 of them played two seasons of Foster Shield, meaning a mere 8 seasons of rep cricket.
The group that represented the NSJCA in the 2018 CS Watson shield are:
Nikhil Ahluwalia (since U10s)
Callum Bladen (since U10s)
Adam Cavenor (since U10s)
Mitchell Crayn (since U10s)
Ayush Joshi (since U10s)
Jay Naganayagam (since U10s)
Tom Osborn (since U10s)
Lachlan Phillips (since U10s)
Adam Sidhu (since U10s)
Aidan Thomas (since U13s)
Zac Hall (since U15s)
Harrison Lucas (since U16s)
These 2018 group were joined at various times throughout the seven years of representative competition by a number of players who represented the NSJCA at different times in this age groups. These players included:
Tom Chapman, Tom Munns, Alex Stuart, Akash Biradar, Rohan Rao, Cooper Wright, Paddy O'Kane, Gautam Chintala, Shehan Sinnetamby, Owen Burt, Lachlan Edwards, Harvey Forrest, Tom Armstrong, Jack Callanan and Fin Oxenham.
This has been a very talented group of players that have performed consistently at a high level. This is supported by the fact that this group supply four members of the top 10 NSJCA run scorers list and three members of the top 10 NSJCA wicket takers.
This group won:
the WG Foster Shield (U10) in 2012;
the Arch Cawsey Shield (U12) in 2014; and
the Harold Moore Shield (U14) in 2016.
They also made the finals in each of the other seasons:
the JH Creak Shield (U11) in 2013;
the WS Gee Shield (U13) in 2015;
the EG Weblin Shield (U15) in 2017; and
the CS Watson Shield (U16) in 2018.
The team also had success in the Country Carnivals over the years winning:
the U12 Lismore Carnival in 2014;
the U13 carnival in Ballina in 2015; and
the U14 City-Country Challenge in 2016.
In their final year the group was coached by Andrew Ridley with Antony Bladen and Mel Naganayagam sharing the manager role. Previous coaches were Seelan Naganayagam (U13-U15) and Steven Crayn (U10-U12). Over the seasons Glenn and Emma Phillips, Seelan Nayagam and Sandeep Joshi also managed the team. In each season the boys, the coaches and the managers have benefitted from the support of a fantastic parent group.
The NSJCA looks forward to these players continuing to develop and enjoy their cricket in the senior ranks.